Plasti&Pack Pakistan 2013
Venue: Expo Center Lahore, Lahore, Pakistan
Hall: 2, Booth No. 2-132
Date: 5th-7th September, 2013
http://www.plastipacpakistan.com/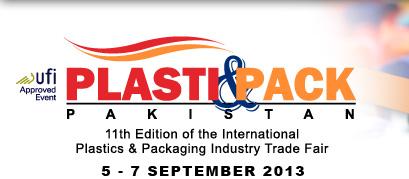 Serving Pakistan鈥檚 second fastest growing industrial sector of plastic printing & packaging since a decade; Plasti&Pack Pakistan has been emerged as a highly competitive B2B marketplace and a preferred meeting junction for brand owners, industry professionals, buyers, suppliers & traders. Akei will take part in the 11th Edition of Plasti&Pack 2013 at Lahore to enhance & sell innovative plastic in Pakistan.
This is the first time Akei participates in Plasti&Pack exhibition. And we will display the Mini Series--model SB-40-TS, which is one of Akei鈥檚 best selling machines. It鈥檚 economical, swift, compact and easy to handle. The standard equipment includes a scrap conveyor and a lateral exit for the finished bottles.
The Mini is designed for high production of small containers. The standard 40mm extruder screw makes it ideal for production of containers ranging from 5ml to 250ml with different die head configuration. Top and tail scraps are punched with automatic in-line deflashing.
With a dry cycle time of 3 seconds, this model is known in the industry as the fastest machine in its category. The SB-40-TS boasts a recorded track record of producing 70,000 containers in 24 hours based on the following product data:
--Volume: 25ml
--Net weight: 4gr
--Material: HDPE 5502
--Machine configuration: 3+3 (triple heads)
--Production efficiency rate: 98%
Akei warmly invites both new and existing clients to visit our booth in Plasti&Pack for discussion of any inquiries/projects and maintaining a long lasting business association.